About Us
The only official PGA TOUR Champions event in Orange County
Draws over 70,000 patrons, 250+ sponsors and 800 volunteers each year
One of the most philanthropic events in PGA TOUR Champions history raising over $20 million for Hoag and other local charities
Boasts 34 PGA TOUR Champions members in the World Golf Hall of Fame, many of who are still actively competing
Will feature players with over 400 world-wide professional victories and over 50 major championships
Largest corporately attended event in Orange County with over 250 corporate sponsors who entertain customers and clients during the tournament
Hoag Hospital began its journey in professional golf in 1975 with the Crosby Southern Pro-Am. Nearly 50 years later, Hoag has accomplished more than anyone could have imagined since that first event at Newport Beach Country Club.
In 1974, Bing Crosby, internationally renowned singer, actor and future World Golf Hall of Fame member, was looking for a place to hold a satellite event for golf professionals who missed the cut at this famous Pebble Beach Pro-Am Tournament. Marshall Duffield, a friend of Crosby who was a Hoag Hospital 552 Club and Newport Beach (Irvine Coast) Country Club member, enlisted his friend Charley Hester, another 552 Club member, to negotiate a deal for a tournament benefitting Hoag. Crosby put up $10,000 in prize money for the first tournament, and in 1975 the first Crosby Southern Pro-Am was held in Newport Beach.
Over the next 22 years, many future stars of the PGA TOUR visited the tournament – renamed the Newport Classic Pro-Am in 1987, and the Taco Bell Newport Classic from 1993-1997. In that two decade plus span, the total net proceeds raised for Hoag totaled over $2,300,000.
In the spring of 1997, the Senior PGA TOUR (now PGA TOUR Champions) approached Hoag to take over operations of the local TOUR event, and in the fall Hoag began its new venture as host and manager of the Toshiba Senior Classic.
Although the Toshiba Senior Classic had existed in the community for three years under different management, Hoag was essentially starting a brand new tournament with only five months to prepare. Hank Adler, who had chaired the Taco Bell Newport Classic, and Jake Rohrer, who had chaired several of the previous tournaments, took on new leadership roles as co-chairmen. Hank was instrumental in transitioning Newport Classic sponsors to the Toshiba Senior Classic and soliciting new sponsors, while Jake focused on the crucial task of recruiting and organizing 1,000 volunteers. Newport Beach Country Club continued its important partnership as host club.
The tournament became an instant success, as the partnership of Hoag, Toshiba, Newport Beach Country Club, and the PGA TOUR proved to be a magical formula. The 1998 tournament quickly raised over $700,000 for charity, and two short years later Hoag produced the first PGA TOUR Champions tournament to ever raise $1,000,000 for charity.
After two successful decades, including crossing the $20 million charitable threshold, Hoag assumed title sponsorship in 2019 and the event became the Hoag Classic.
2023 – ERNIE ELS
Ernie Els fired a bogey-free, 6-under 65 on Sunday to come from five shots back and claim his second Hoag Classic title (2020) at the Newport Beach Country Club, his first victory since the 2020 SAS Championship.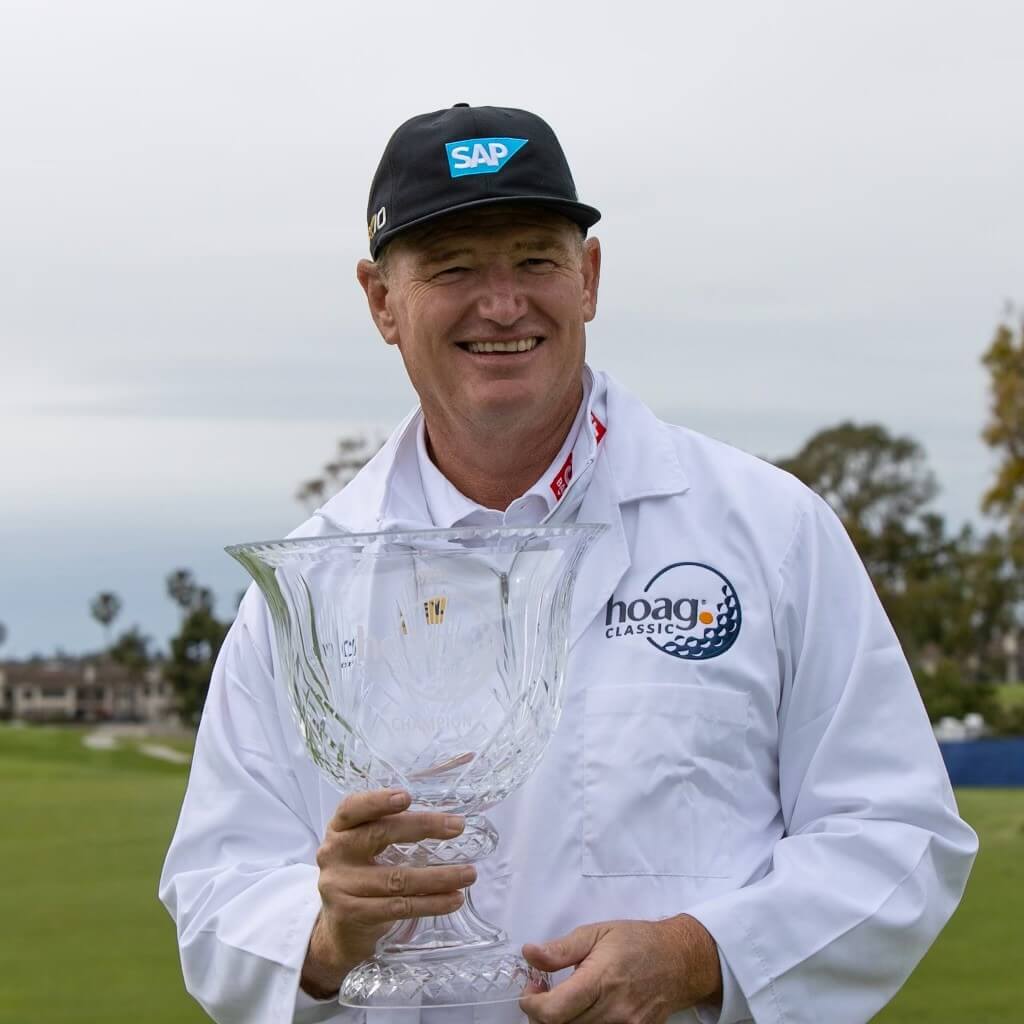 Don't Miss Out! See You At Newport Beach Country Club.